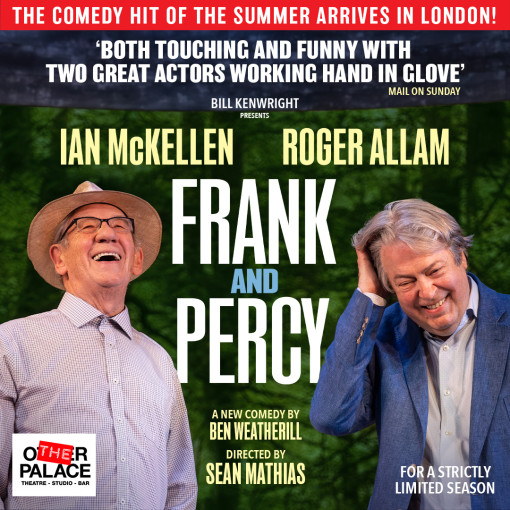 Frank and Percy
4,9/5
Op basis van 24 beoordelingen
(beoordelingen)
Boeking tot: zondag 17 december 2023
Looptijd: 2h 15m (incl. interval)
Foto's
Frank and Percy Beschrijving
★★★★★ - The New European | ★★★★★ - Theatre Weekly | ★★★★★ - Sardines Magazine | ★★★★ - Daily Mail | ★★★★ - The Times | ★★★★ - Mail on Sunday | ★★★★ - Evening Standard
"Both touching and funny with two great actors working hand in glove" - Mail on Sunday "McKellen and Allam are without doubt one of the great stage double acts" - The New European "The venerable Ian McKellen and Roger Allam are note perfect" - The Times
Bill Kenwright presents Ian McKellen and Roger Allam in the comedy hit of the Summer, Ben Weatherill's Frank and Percy, under the Directorship of Sean Mathias.
Frank and Percy is a poignant and witty take on the unexpected relationship that blossoms between two men.
Ever seen a couple of old boys on a park bench and wondered what they are chatting about?
In his new play Ben Weatherill lets us overhear Frank and Percy as they discuss the weather, then their dogs and then each other and so much more. Will the widowed schoolteacher and the elder statesman dare to risk changing their lives or let sleeping dogs lie?
Old friends, three-time Olivier Award winner Roger Allam, and one of our greatest stage and screen actors, Ian McKellen, re-unite with Director Sean Mathias, for this witty, poignant two-hander.
The play made its critically acclaimed world premiere in June at Theatre Royal Windsor directed by Sean Mathias, before transferring to The Other Palace for a limited season run.
Met
Ian McKellen, Roger Allam
Adres van The Other Palace
12 Palace Street, London, SW1E 5JA GB (Meer info)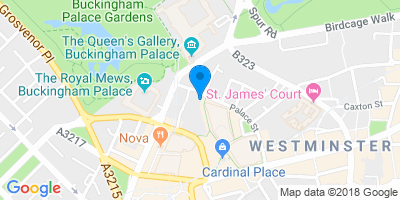 Routebeschrijving
Belangrijke informatie
Contains strong language, sexual references, and discussions of bereavement and cancer.
Tijden voorstelling